Sergio Aceves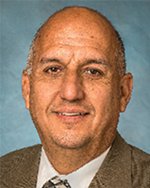 Acting Deputy Director
Maintenance and Operations
Sergio Aceves was appointed the Acting Deputy Director of the Caltrans Maintenance and Operations Program effective August 24, 2023. He will manage the day-to-day operations of the Divisions of Equipment, Traffic Operations, Maintenance, Safety Programs, and the Clean California program. Mr. Aceves will oversee a statewide operating budget of $2.5 billion, 8,657 employees, and a fleet with more than 12,000 pieces of equipment.
Before his appointment as the Acting Deputy Director of Maintenance and Operations, Mr. Aceves was the chief of the Headquarters Division of Maintenance. He was responsible for providing statewide policies, guidance, and funding for all Maintenance operations within the State Highway System. Mr. Aceves was also responsible for overseeing a yearly budget of $2.1 billion and managing eight subdivisions within the Division of Maintenance. Those subdivisions included the Pavement Program, Maintenance Safety Equipment and Training, Structure Maintenance and Investigations, Budgets and Administration, Field Technical Support, Emergency Operations and Vegetation Management, Materials Management Acquisitions and IMMS, and Homelessness and Encampments.
Among his professional achievements, Mr. Aceves was named the State Pavement Engineer for Caltrans in October 2018. He was responsible for overseeing the funding of more than $2 billion in pavement rehabilitation and maintenance projects. He managed the Pavement Management System and the Pavement Program team that includes pavement programming, pavement management, asphalt pavements, and concrete pavements.He was also the chairman of the Pavement and Materials Partnering Committee, a committee that partners with industry to support sustainable pavement technologies and improve construction methods, specifications, and test methods.
A 1995 graduate of the California State University at Sacramento, Mr. Aceves holds a bachelor of science degree in Civil Engineering. He began his Caltrans career in Construction, working as a resident engineer for eight years, and then promoted to senior transportation engineer in 2006. He has held many roles in Caltrans from Office Engineer, Program Management, Traffic Management Planning, Project Management, and office chief for Maintenance and Traffic Engineering, and he acted as the Deputy District Director over Maintenance and Traffic Operations in District 3, Marysville.