Michael D. Keever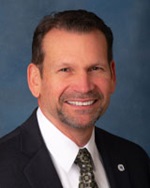 Chief Deputy Director
Mike Keever was appointed as Caltrans' Chief Deputy Director, effective January 20, 2022. This position oversees all Caltrans' operations, comprising nearly 22,000 employees, a $15.5 billion budget, the massive SB 1 infrastructure program, major efficiency efforts, and leadership development.
Mike most recently served as Chief Engineer and Deputy Director for Caltrans' Project Delivery, overseeing a program of nearly 9,000 employees and an annual budget of approximately $2.0 billion. In this role he has been responsible for all aspects of Caltrans' transportation projects statewide, from environmental approval, design, right-of-way certification and clearance, and surveys; to structures, geotechnical investigations, materials testing, contract bids and awards, project management, and construction.
With more than thirty years at Caltrans, Mike has served in many different positions, including including Chief Engineer, Deputy Director of Project Delivery, Division Chief of Project Management and Division Chief of Engineering Services. In addition, Mike has been actively engaged on infrastructure policy and research, working with AASHTO, TRB, NCHRP, and research universities around the country. Mike also brings his extensive experience in collaboration and communication with internal and external stakeholders and partners, including the California Transportation Commission, the Federal Highway Administration, PECG, ACEC, Self-Help Counties Coalition, and the construction industry.
Mike graduated from the University of Southern California with a Bachelor of Science in Structure Design and is a licensed Civil Engineer.